Why wait to get the Master Characters from the City involved? You might start as a Warrior ans then become the Sheriff or may start as the Conjurer and then try to become the High Mage but the Citizen takes a shorter path.


He is not the strongest or smartest but he starts with the Master Class of his choice and has all its Strength and Craft bonus and Special Abilities.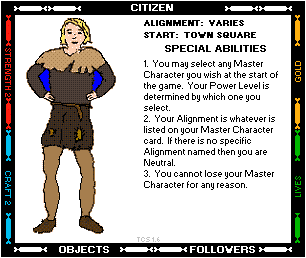 Power Level 1:
Champion of Chaos* and Templar

Power Level 2:
Herald and Master Thief**

Power Level 3:
King's Champion and Sherriff

Power Level 4:
High Mage and Mystic***



* You ignore Special Ability #7 and the latter part of #6 - you cannot lose this Character.


** You ignore Special Abilities #5 and #6.


*** You are always have two Spells even if your Craft normally does not allow it.
Option IV - Using Game Supplements

A player can control Multiple Characters. For the sake of balance treat it is a single Character with all their total Power Levels plus two for every Character controlled beyond the first.
A Character has a +1 Power Level bonus if only he begins with a random Skill or can visit the Bandit King.
Ultimate Option

Use everything at once.


There is no reason why you can't control a Hero Dwarf Soldier with a Stealth Skill and the ability to visit the Bandit King. You'll get something like what is below - which is ridiculously overpowered but give all the other players Power Level 6 Characters (maybe another player controls an Elf Warrior and a Leprechaun Rogue) and its fine - just expect a shorter than average game.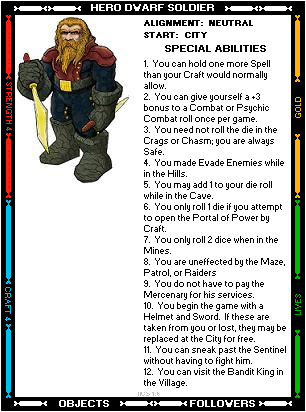 kingmaker67@gmail.com