GNOME

Attack: 1
Move: 3
Hand: 5
Life: 15




Special Ability

1. You may select which sector you want to claim as your own at the start of the game.
2. You have a +2 Attack and Move bonus on any turn in which you begin in a space in your home sector.
3. You can decide to ignore any RELOCATE SECTOR or ROTATE SECTOR spell cast on your home sector.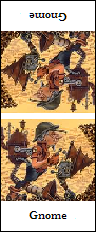 Innate Spell